NON CORROSIVE NO SULFATE
MAINTENANCE FREE TIGHTLY SEALED
RAPID RECHARGE DISCHARGE CAPABILITIES
LITTLE INTERNAL RESISTANCE DURING OPERATIONS
OPERATES NORMAL IN EXTREME TEMPERATURE CONDITIONS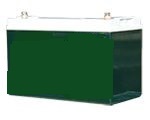 SILICONE RECHARGEABLE POWER BATTERY HAS A UNIVERSAL PATENT ELECTROLYTE
GM SERIES
Electrolyte is PH neutral, no sulfate to corrode electrodes, plates, joints or connections, increasing capacity and prolongs charging cycles
Electric power battery and storage solutions for industrial applications such as solar systems, wind power, telecom, mines, oil & gas industries etc...
Excellent performance in high and low harsh temperatures between -40oC to +70oC
High durability in outdoor applications, with minimum loss of charging cycles in temperature changes
Fast battery charging capability in 60 minutes
Low internal resistance generally 2mΩ enhancing the active chemical substances for low current
Long storage life, low self-discharge rate of 20% in 2 years when stored under normal conditions 20oC to 25oC
Maintenance Free, tightly sealed battery
GM APPLICATIONS

Telecommunication Systems
UPS and Data Centers
Outdoor stations
Utility and Electrical Systems
Mining applications
Computer Networks and Server Systems
Hospital Backup Power
Marine and Power Stations
Internet towers (UPS stations)
Alarm and Security Systems
Fire & Safety Systems
Emergency Lighting Systems
Portable offices
EXCEEDS ENVIRONMENTAL STANDARDS
Exceeds international storage capacity standards by 1.75 times
Exceeds international recharge acceptance capacity standards by 2.68 times
BENEFITS
no sulfate to corrode electrodes, plates, joints or connections, meaning a longer battery life
high current recharge 0.8C - 1.0C capability, fast charge in 60 minutes
internally tested the high current discharge capability at 30C in 8 seconds with no damage to the battery
high and low-temperature ratings between -40oC to +70°C
no internal battery memory to improve performance in whole
cycling life up to 20 years, depending on the application
works normal in deep sea applications of 6000 meters beneath the sea
no hazardous pollutants in manufacturing process of the battery
no hazardous pollution to our environment
after the battery life-cycle has expired please remember to recycle any and all batteries.
INTERNAL RESISTANCE
GM silicone power batteries have a smaller internal resistance generally 2mΩ twelve to thirteen times smaller than that of the lead-acid battery. Furthermore, there is little or no visible temperature rise during usage, the silicone power battery has a universal patent electrolyte. The lead-acid battery has a relatively larger internal resistance generally 25mΩ with the 12V lead-acid series, the holes generated in the maintenance free lead-acid battery makes the internal resistance even greater.
BATTERY
VOLTAGE
CAPACITY
LENGTH
WIDTH
HEIGHT
WEIGHT (kg)
MINIMUM
(Model)
(V)
(AH)
(mm)
(mm)
(mm)
(+1/-1%)
MOQ
GM12-7
12V
7Ah
150
64
97
2.77
500
GM12-12
12V
12Ah
150
98
98
4.2
500
GM12-17
12V
17Ah
181
77
171
6.2
300
GM12-20
12V
20Ah
181
77
171
6.8
300
GM12-33
12V
33Ah
195
130
165
11.04
300
GM12-38
12V
38Ah
195
130
165
12.57
200
GM12-40
12V
40Ah
196
165
170
13.2
200
GM12-45
12V
45Ah
196
165
170
14.7
200
GM12-48
12V
48Ah
196
165
180
16.5
200
GM12-60
12V
60Ah
259
170
222
22.1
100
GM12-70
12V
70Ah
259
170
222
24.2
100
GM12-100
12V
100Ah
331
175
225
28.0
100
GM12-120
12V
120Ah
395
110
285
30.0
100
GM12-130
12V
130Ah
395
110
285
34.2
100
GM12-150
12V
150Ah
340
175
295
44.5
100
GM12-200
12V
200Ah
522
240
220
57.0
100
GM2-200
2V
200Ah
170
106
340
12.9
100
GM2-300
2V
300Ah
170
149
340
18.6
100
GM2-400
2V
400Ah
211
177
358
24.8
100
GM2-500
2V
500Ah
240
171
345
31.0
100
GM2-600
2V
600Ah
240
172
366
38.0
50
GM2-800
2V
800Ah
472
175
364
59.0
50
GM2-1000
2V
1000Ah
475
175
365
68.6
25
GM2-2000
2V
2000Ah
491
351
383
135.0
25
GM2-3000
2V
3000Ah
712
353
382
170.0
25
RATED CAPACITY AH EXAMPLES
Battery
20hr Rate
10hr Rate
5hr Rate
1hr Rate
Model
1.80V/Cell
1.80V/Cell
160V/Cell
120V/Cell
GM12-20
28.0
24.7
23.8
18.0
GM12-60
75.0
72.0
66.3
56.1
GM12-100
112.0
110.0
87.8
82.5
GM12-120
134.4
132.0
105.4
99.0
GM12-150
156.9
150.0
148.0
123.8
GM12-200
220.0
210.0
187.0
174.1
GM2-300
315.0
307.0
285.0
230.0
GM2-500
525.0
500.0
467.0
366.0
GM2-800
840.0
800.0
747.2
585.6
GM2-1000
1100.0
1050.0
935.0
755.0
GM2-2000
2200.0
2100.0
1870.0
1510.0